2018 Ford Taurus from a Kansas City Ford Dealership
Feb 9, 2018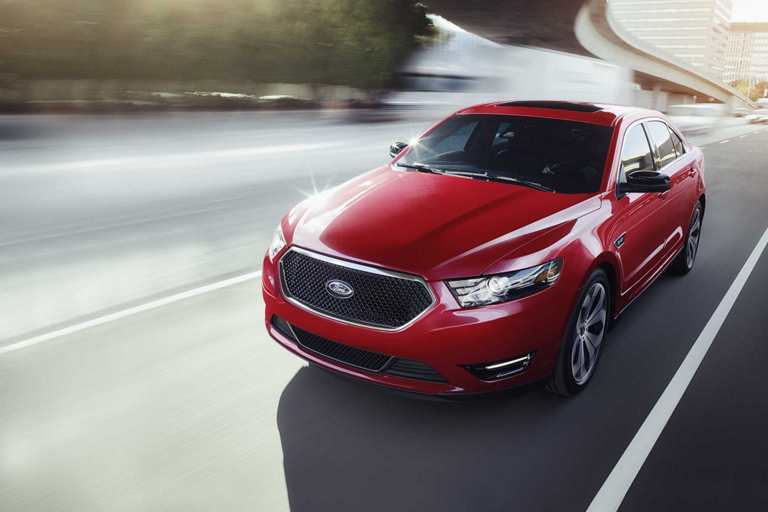 With intelligent safety features, a premiere audio system, an engine that knows how to vroom and an exterior that turns heads, the 2018 Ford Taurus from a Kansas City Ford dealership should be on your radar.
Exterior
The 2018 Ford Taurus makes a statement with a bold, SHO grille crafted with black mesh and LED signature taillamps that are more energy-efficient and bright than conventional incandescent bulbs. To complement your taillamps, HID (high-intensity discharge) headlamps automatically turn on in low-light situations or when the wipers are activated. In addition, the 2018 Ford Taurus boasts a unique rear spoiler that's scientifically engineered for optimal aerodynamic properties. The dual chrome exhaust tips and exhaust system reduce back pressure and give you amazing horsepower.
Wheels
If wheels are your deal, you're in luck! You'll be able to choose from a variety of wheel designs; 20-inch 15-spoke low-gloss Ebony Black-painted machined aluminum wheels may be your style, or you can go with 20-inch polished aluminum wheels on the Limited. You can even tack on painted pockets!
Beneath the Hood
What's on the outside doesn't matter nearly as much as what's beneath the hood. You want a vehicle that you can rely on to get you where you need to go. You want to enjoy the driving experience just as much as the end destination. A standard 3.5L Ti-VCT engine pumps out 288 horsepower. No matter which model you choose, you'll have six-speed SelectShift automatic transmission and the option to override automatic operation.
If you really want to see what a Taurus can do, try out the 365-horsepower 3.5L EcoBoost V6 engine. The Taurus SHO integrates turbocharging and direct injection to deliver 365 horsepower and 350 lb.-ft. of torque. A 3.5L V6 engine can get you 288 horsepower and 27 highway miles per gallon. This fuel economy is
made possible with variable valve overlap. Intelligent all-wheel drive sensors help create torque equilibrium between the front and rear wheels. You won't have to worry about wheelslip, since traction is maximized.
For those who want to go all out with a Taurus SHO, be prepared for Sport-Tuned Suspension that features sport-tuned shock absorbers, springs, stabilizer bars and strut mount bushings. You'll be able to handle cornering like a pro and steering will be completely within your control.
The 6-speed SelectShift Automatic Transmission Sport Mode with shifter button activation is available on the SE, SEL and limited models. If you like the feeling of going fast, the 2018 Ford Taurus' SHO boasts race-inspired steering wheel-mounted paddle shifters that let you change gears in a second. With torque vectoring control and curve control, you'll be able to imitate the effect of torque vectoring differential. This gives you complete control when going into a curve. Curve control slows the vehicle down when it senses that you're going into a curve too fast. This speed reduction is achieved through throttling reduction and four-wheel braking intervention.
Intelligent Safety Features
If you're looking for a vehicle that can be your copilot in busy city-scapes, highways and pedestrian-filled neighborhoods, the 2018 Ford Taurus has you covered.
Adaptive Cruise Control
Adaptive cruise control is ideal for long road trips on one-lane roads. Instead of having to constantly adjust your speed to match the person in front of you, sensors on your 2018 Ford Taurus can tell when traffic is slowing and adjust your speed accordingly. Once the traffic clears up, you'll resume to your set speed.
Forward Collision Warning and Brake Support
With Forward Collision Warning and Brake Support, you'll receive an alert whenever there's a potential collision ahead. If you don't react to the initial red warning bar that flashes on the windshield, the system will pre-charge brakes and increase brake-assist sensitivity.
Lane-Keeping
A lane-keeping system made up of a lane-keeping alert and lane-keeping aid helps you stay on track while driving. If you start drifting into another lane, the steering wheel vibrates. This motion feels a lot like when you drive over a rumble strip, so you immediately know what the issue is. At the same time, lane-keeping aid activates steering torque to help direct you back into the proper lane.
BLIS and Cross-Traffic
BLIS (blind spot information system) with cross-traffic alert harnesses the power of radar located in the rear quarter panels to sense when a vehicle is moving into your blind spot. When this occurs, the Taurus warns you in the form of an indicator light in the sideview mirror. Cross-traffic alert uses this same technology to sense when there's traffic behind you while you're backing out. Once a vehicle is within 15 yards of your vehicle, you'll receive an audible warning, a visual display in your sideview mirror and a signal in the message center. This feature is optimal for those who wish they had better visibility while driving.
Push-Button Start and MyKey
Intelligent access with push-button start makes it possible for you to start your car without even having your keys out. As long as the fob is nearby, you can open the driver's door and start the car using the start button. All you have to do it make sure your foot is pressed down on the brake pedal before you press the start button. Another smart feature is MyKey, a program which helps promote good driving habits by limiting max speed and volume.
Technology
With the array of technology available with your 2018 Ford Taurus, you should have no problem getting where you need to go, playing your favorite music, and finding parking downtown.
SYNC 3
SYNC 3 is voice-activated technology that works in correspondence with a touchscreen. You can find your favorite place to eat and use the navigation feature to get directions. Plus, connect with your smartphone and play your favorite downloaded music. You can even make voice-free phone calls and look up movie show times. You have the world at your fingertips with the 2018 Ford Taurus SYNC 3.
FordPass is an app that allows you to find parking (plus reserve your spot and pay for it in advance), compare fuel prices for optimal savings, access vehicle information and schedule services, and receive help from a FordGuide. This is available in the App Store and through Google Play. You can ask representatives at a Kansas City Ford dealership for assistance setting up the app or finding it in the app store.
Navigation
If you rely on your GPS to get you from point A to point B, have no fear! The 2018 Ford Taurus has a navigation system with SiriusXM Traffic and Travel Link. The SYNC3 lets you easily find restaurants, nearby ATMs, or coffee shops. This smart system adapts your search results as it gets to know your preferences. Plus, audible turn-by-turn navigation means you never have to take your eyes off the road. You'll even receive weather information if you're heading into a storm and alerts when there are traffic delays ahead. If there's an alternate route that will get you there faster, the GPS system will give it to you.
Interior
Treat yourself with the leather trim, refined color palette, heated amenities and premiere audio system of a 2018 Ford Taurus.
All materials within the cabin are soft-to-touch and durable enough to stand the test of time. A heated steering wheel and heated outboard rear seats keep you and your passengers toasty in the wintertime, and heated/cooled front seats ensure you can handle any climate.
Sound
You can equip your Taurus with an Audio System from Sony with Clear Phase and Live Acoustic (standard on Limited and SHO models) to make your music sound better than it ever has. You won't hear any external noise while driving with insulation in the engine compartment and cabin. Instead, you'll be able to enjoy the sound from your 12 speakers and high-quality surround sound. Clear Phase technology gives you static-free sound reception that you can take pride in.
Seats
Sitting in your Taurus will feel like floating on clouds. If you go with the SHO, expect charcoal black leather-trimmed seats or leather-trimmed seats with mayan gray Miko insterts. No matter which you choose, you'll have SHO embroidery to give your interior a distinct look, extended thigh-support cushioning and bolster contour. Your Taurus SHO is environmentally friendly as well; All seat cushions and backs are soy-based. Tack on aluminum pedals, woven aluminum applique, floor mats with SHO embroidery and a leather-wrapped steering wheel for a vehicle that thinks of everything.
Lighting
Ambient lighting helps set the move every time you hit the road. Light-emitting diodes (LEDs) let you easily see your front rear footwells, door handles and front cup holders. You'll be able to choose form Ice Blue, orange, soft blue, red, green, blue or purple. Plus, you can choose a dimmer option if you have sensitive eyes.
Control Your Temperature
You expect to be able to control the temperature of your home, so why is your vehicle any different? With the 2018 Ford Taurus, dual-zone climate control allows you and your front-seat passenger to pick specific temperature levels.