The 2018 C-MAX from a Kansas City Ford Dealership
Mar 13, 2018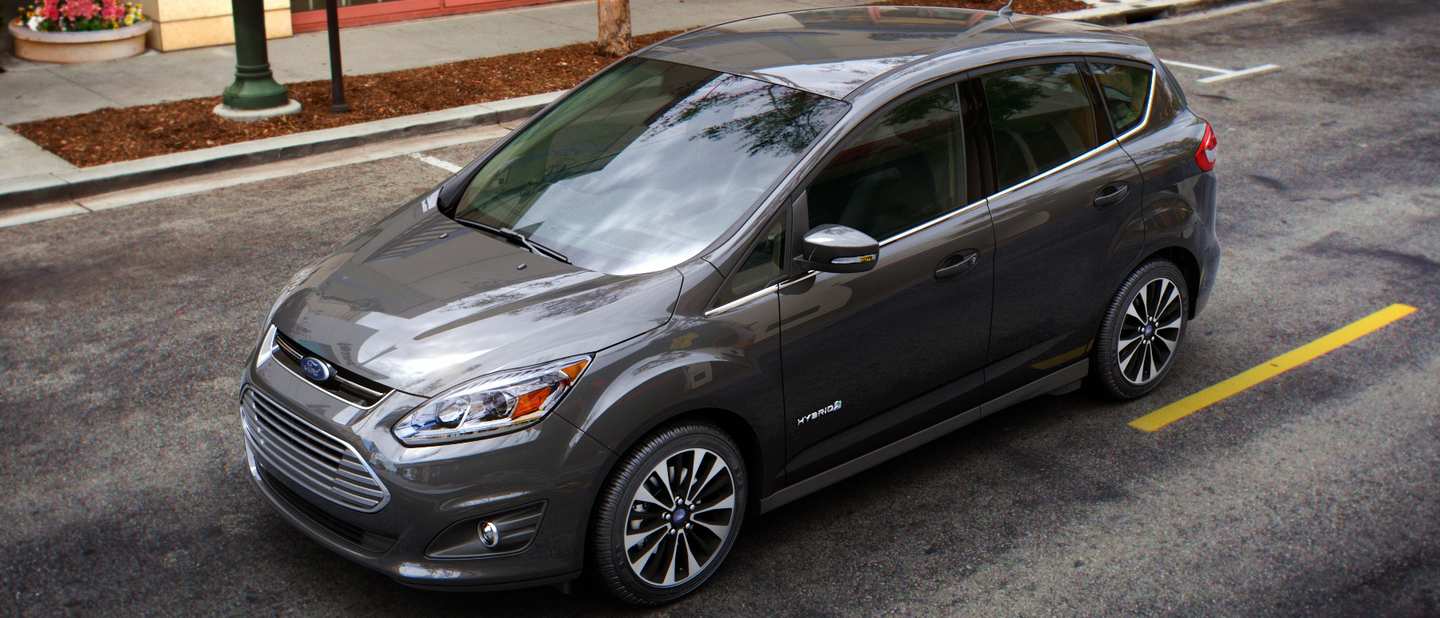 What if your car could tell you how to get the best gas mileage? What if your car could sense rain and automatically turn on your windshield wipers? What if your car could search for available parking spots ahead of time and reserve your spot? These may sound like features of the future, but you can experience all this and more with a new 2018 Ford C-MAX. We'll break down all the amenities that make this model a standout so you can better decide whether it's a fit for you.
Intelligent Access with Push-Button Start
If you're sick of digging around in your purse for the keys, you're in luck. The 2018 Ford C-MAX has available Intelligent Access with push-button start to make it entry, exit and start a breeze. As long as the keys are within the vicinity, the doors automatically unlock and you can push a button to start your vehicle (must be pressing down on brake). When your keys leave the vicinity, your car doors automatically lock.
SmarGauge with EcoGuide
SmartGauge with EcoGuide is a feature that increases driving efficiency via a customizable LCD display. This display make is easier for you to visualize your driving habits and the direct effect they have on vehicle efficiency. This includes your Energy History, Energy Coach and Efficiency Leaves. That way, you can use this information to get the most out of your driving experience.
Active Park Assist
You can add on Active Park Assist to make it easier to park in tight spots and bustling downtown streets. If you're driving slowly by a parallel parking spot, you can activate active park assist and watch your trusty co-pilot go! The system scours for a parking spot using ultrasonic sensors and alerts you once a spot has been found. Once you accept the system's assistance, it will guide you into the spot with only shifting, braking and accelerating required on your part.
Rain-Sensing Wipers
If you live in an area that gets a lot of on-again/off-again rain, you should opt for the available rain-sensing wipers (available on Hybrid). These bad boys can detect when rain or snow hits your windshield and automatically activate your wipers. You can also adjust the sensitivity level to ensure they don't activate when it's sprinkling. This allows you to focus on driving.
Rear View Camera
Craning your neck to see what's behind you can be a real…pain in the neck! With a standard rear view camera, you can see what's behind you without having to turn around. This enhanced visibility makes it easier to back out of parking spots and driveways. When you shift into reverse, the camera automatically transmits footage. Plus, this feature comes standard on all models!
MyKey
MyKey is an innovative technology that gives you complete control of driver settings. Essentially, you're able to program restricted driving mode to promote good driving habits. This mode can control everything from max audio volume to speed. For any drivers you want to restrict, simply give them the MyKey to use. The Admin key is able to create the MyKey and disable certain features. You can even check to see how many miles were driven while the MyKey was in use.
Spacious Seating
No one enjoys being cramped in the back seat during a long road trip. With the 2018 Ford C-MAX, you have plenty of room to stretch your legs. If you want to transport gear and don't have passengers, you can easily fold down seats to make room in the back with a 60/40 split-fold second-row seat. The C-MAX Hybrid comes with 5-passenger seating, and the SE includes cloth seats. For those wanting top-notch luxury, the Titanium boasts leather-trimmed seats. As a bonus, all models come with second-row in-floor storage compartments that you can use to store small personal items, like a laptop. This not only adds convenience, but also security when you're leaving expensive items in your vehicle.
Heated Front Seats and Exterior Mirrors
The wintertime is one of the absolute WORST times to drive. Between preheating your car and scraping the windshield, you end up putting in several minutes of work just to leave the driveway. The 2018 Ford C-MAX works to alleviate your troubles with heated front seats and heated exterior mirrors. You can choose between three comfort settings for your front row seats, and exterior mirrors begin heating up once you turn on the defroster. Visibility is imperative to safe driving, and exterior mirrors are an essential part of that. No matter the weather, you can feel comfortable and safe in your Ford C-MAX.
Foot-Activated Liftgate
Loading up groceries in your trunk can be a major pain, but the C-MAX makes the process easier with a hands-free, foot-activated liftgate (available on Titanium). As long as you have your Access key near the vehicle, you can kick your foot under the bumper to activate the liftgate. It's as easy as that!
SYNC 3
Enjoy the latest technology at your fingertips with SYNC 3. This voice-activated system lets you skip songs, make phone calls, and input navigation. The color touchscreen gives you access to your favorite places to eat, and you can hook up your smartphone through Apple CarPlay and Android Auto compatibility. Ask Siri where the nearest car wash is, or listen to voicemails while sitting in traffic. You can even send, read and reply to texts. Plus, hook up your iTunes and play your favorite songs and playlists. With Android Auto, you can ask Google anything while keeping your eyes on the road.
Sirius Traffic and TravelLink
You'll receive a five-year complimentary SiriusXM Traffic and SiriusXM Travel Link trial subscription with your purchase. This GPS technology utilizes 3D mapping and voice-guided turn-by-turn directions to make the journey as easy as possible. You'll also get information on the nearest public charging stations, traffic updates, current/forecasted weather, gas station stops, sports scores and movie theater locations/show times. Basically, everything you could ever need.
SiriusXM Radio
With over 150 channels of commercial-free music, you should never hear the same song twice. SiriusXM Radio includes music, sports, news, talk, comedy and entertainment—virtually everything! You can even pause and rewind content if you miss something, all with the Replay feature. Plus, the Alert feature lets you know when an artist you like comes out with new music, so you're always in the loop.
Ambient Lighting
Available ambient lighting is here to save the day for all those who struggle getting into your car at night in dimly lit areas. This lighting is located (with color) in the front and rear footwells. Plus, your cup holders are lit to make drinking easier in the nighttime. If you're a driver or front passenger, choose between red, blue, purple, orange, aqua, white or yellow-green lights.
This app is essential for any Ford owner, making it easy for you to keep track of maintenance, schedule service and find parking. Not only does it help you find parking, but it also lets you reserve and pay ahead of time if you're in a hurry. Plus, you can compare fuel prices along your route to make sure you're getting the best price. One of the standout features is FordGuide, which lets you talk with a real person about problems you're having with your 2018 Ford C-MAX.
Under the Hood
With the 2018 Ford C-MAX, you'll drive home with best-in-class horsepower and power-split hybrid architecture. The lithium-ion battery and gasoline-powered engine join forces to power this firecracker. They can also work separately using the motor and generator. Regenerate braking even makes slowing down a breeze—you end up recovering more than 90% of your energy and send it back to the battery to be stored for later use. The Brake Coach appears after the vehicle stops and offers suggestions on the best way to brake to maximize energy re-usage. The percentage shown is an indication of the regenerative braking efficiency, with 100 representing max recovery.
The standout horsepower (188 combined) and 85 mph max in all-electric mode is made possible by a 2.0L Atkinson-cycle I-4 gas engine in C-MAX Hybrids. The power-split hybrid architecture helps the battery and gasoline powered engine work together for maximum efficiency.
The EcoSelect Button creates less aggressive heating and cooling and softer acceleration. It also adjusts engine behavior and activates EcoCruise. You can activate this feature by pressing the EcoSelect button on the center console. In turn, a graphic will appear in the information display.
Active Grille Shutters improve efficiency behind the grille by opening or closing to maintain the ideal engine operating temperature. They're located between the grille opening and the radiator, and are electronically controlled by the engine control module. If there is less engine cooling required, the shutters close to optimize aerodynamics.